2 in 1 Pest Insect Trap Racket LED 3000V Silent Electric Mosquito Swatter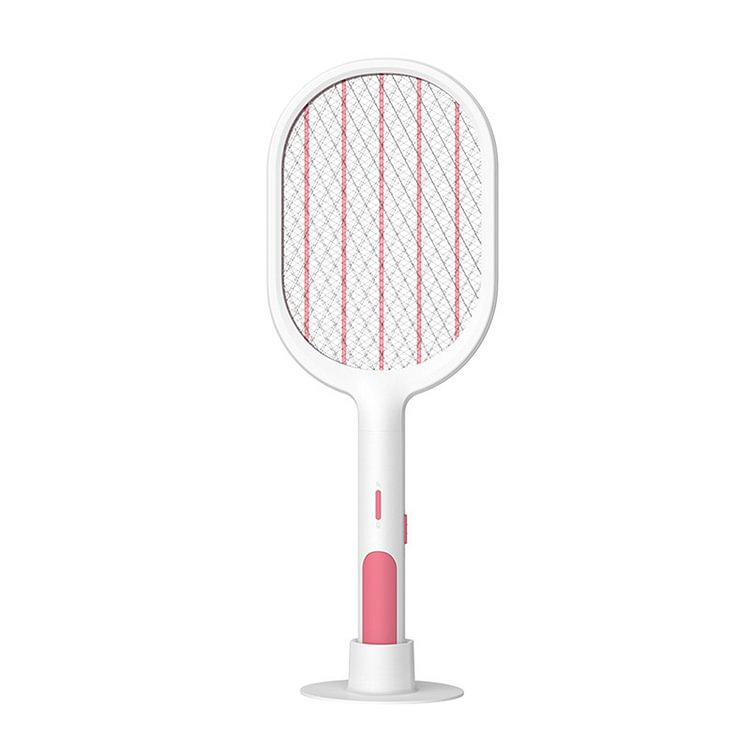 2 in 1 Pest Insect Trap Racket LED 3000V Silent Electric Mosquito Swatter
1200mAh USB Rechargeable 2 in 1 LED Household Electric Mosquito Swatter 3000V Silent Anti Fly Bug Zapper Killer Trap Insect Racket Pest Control Products
Feature:
1. Unique dual-mode design:
Manual mosquito killer mode: when you pick it up, it is an electric mosquito swatter, which can actively attack and kill mosquitoes;
Intelligent mosquito-killing mode: Stand-up type, it will kill mosquitoes when it is put down for charging, and will release physical ultraviolet light waves to induce mosquitoes to kill.
Built-in 368mm ultraviolet light LED lamp beads can be used as a mosquito killer. When the mosquito trap mode is turned on at night, this design that is particularly sensitive to mosquitoes will stimulate the phototaxis instinct of mosquitoes and attract mosquitoes to fly to high-voltage electric beats.
2. Safety: 3-layer power grid design, powerful mosquito killer and no electricity. The front and back two layers of insulation protection nets, no current, prevent accidental electric shocks, the middle-level dense power grid, low current safety voltage, within the safe range for the human body, and strong voltage for mosquitoes and flies.
3. Double safety switch. To escort the safety of the family.
4. Strong battery life, charge once a month. Built-in 1200 mAh high-capacity battery, after fully charged, the manual mode can be used for about 30 days; the night mosquito trap mode can be used for about 4 hours.
At the same time, it can be charged by USB, and the night mosquito trap mode can be turned on while charging. Operation mode: night mosquito control mode: place on the base to connect to charge, push the function switch to NO.2.

Specification:
Material: ABS
Size: 496x185mm/19.53x7.28in
Input interface: USB
Charging input: 5V-1A
Charging time: about 4 hours
Rated power: 5W (Max)
Body lithium battery: 1200mAh
Mosquito release voltage: about DC 3000V
Two ways to kill mosquitoes: 1. Hand-held 2. Standing type
Color: Pink, Blue

Tip:
Do not squeeze the surface of the mosquito racket with your fingers.
Do not use mosquito swatter near flammable gas or liquid.
Do not wash the mosquito swatter with water.
Do not insert metal objects into the mesh surface.

Note:
Due to the different monitor and light effect, the actual color of the item might be slightly different from the color showed on the pictures. Thank you!
Please allow 1-3cm measuring deviation due to manual measurement.