250ml Nano Car Scratch Removal Spray Hydrophobic Paint Repair Coating Agent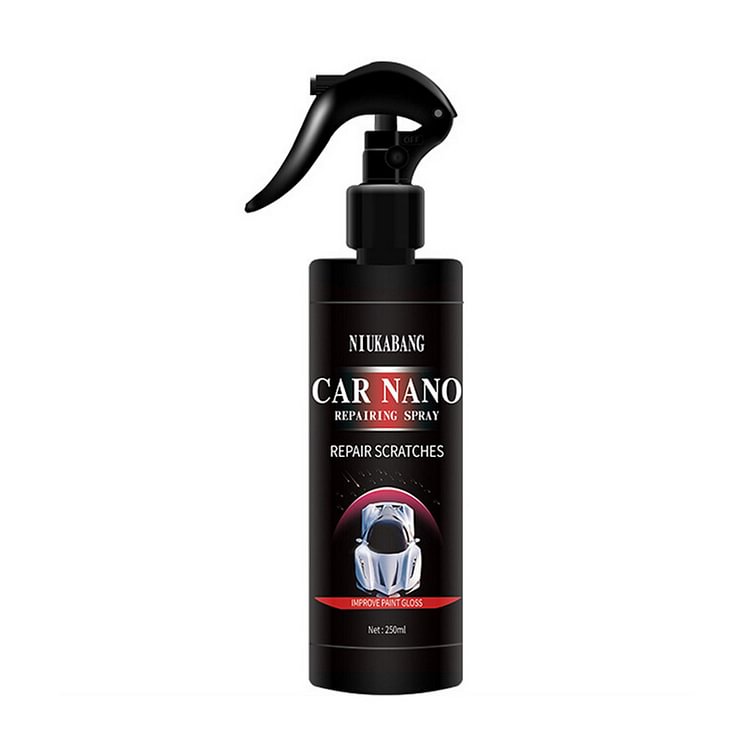 250ml Nano Car Scratch Removal Spray Hydrophobic Paint Repair Coating Agent
250ml Nano Car Scratch Removal Spray Hydrophobic Auto Paint Repellent Repair Remover Polish Coating Agent Liquid
Feature:
1. Error Free Repair: Save yourself trouble and costs. Using nanotechnology, this spray removes scratches by filling them with nano and sealants.
2. Free Car Accessories: The 20 x 10 cm nano scratch cloth can remove light scratches on the car, e.g. scratches caused by vehicles, bird droppings, colloids, paint oxidation, asphalt, rust, dirt, etc. If the number of applications is full, you do not have to discard it. After cleaning, you can also wipe the smog and water drops of windows and rearview mirrors (environmental protection).
3. CERAMIC COATING - Your car looks
flawless
as it forms a protective ceramic coating that prevents further scratches, wear and discolouration. Hydrophobic Layer - Creates a hydrophobic layer that makes cleaning your car easier as dust, dirt and liquids are present and it is harder for it to cling to its surface.
4. QUALITY FORMULA - This spray is the best quality formula for your car. It is durable, water-resistant, non-toxic and odourless.
5. Widely Used: The formula repairs and blends seamlessly into any car paint and is suitable for all types of car paint and paint. EASY TO USE - Supplied in a handy spray bottle, simply spray over the damaged area and spread evenly with a soft cloth. No additional tools or products required.
6. Get back this
flawless
finish with just one spray!
7. Scratches are unavoidable for even the most careful car owners. This instant Repair spray effortlessly removes scratches from the surface of your car and brings the
flawless
finish.
8. Simply apply appropriate amount and wipe off. Instantly beautiful and shiny. It fills the damaged areas and makes your car look free from bumps.
Specification:
Capacity: 250ml
Accessories: Nano Scratch Cloth
Material: Polysiloxane + Other Nano Materials etc
Shelf Life: 3 Years.
Layer Thickness: Approx. 30μm
Shine: Mirror-Like With an Excellent High Gloss Finish
Corrosion Protection: PH Tolerance: PH2-12
Heat Resistance: Up To 760 Degrees.
Note:
1. Due to the different monitor and light effect, the actual color of the item might be slightly different from the color showed on the pictures. Thank you!
2. Please allow 1-3mm measuring deviation due to manual measurement.
Package Content:
1 X Nano Car Scratch Removal Spray