2pcs Digital PH Meter TDS Tester EC Temp Detector Water Quality Monitor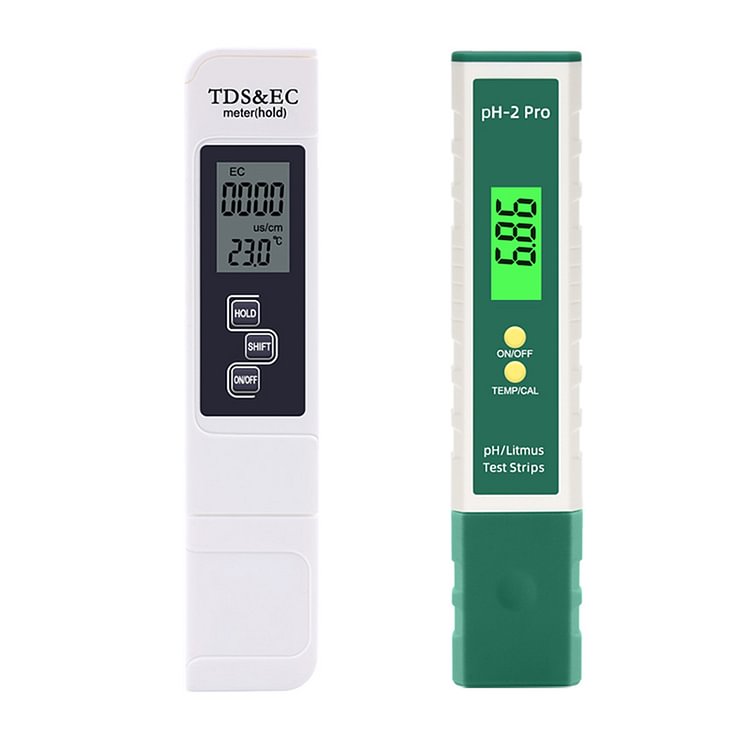 2pcs Digital PH Meter TDS Tester EC Temp Detector Water Quality Monitor
2pcs Digital PH Meter TDS Testers Set Thermometer Pen 0.0-14.0 PH 0-9990ppm TDS EC Temp Detector Water Quality Monitor Test Purity Tool for Pool Aquarium PPM Filter Analyser
PH tester
Specification:
Material: plastic
Calibration method: 3-point automatic calibration
Resolution: 0.01PH
Battery: 2*1.5V (LR44 button battery)
Range: -2.00-16.00PH (usually 0.00-14.00PH)
Temperature range: 0-80℃
Size: 155*32mm
Reset function: Press and hold the power button for 3S in the power-on state, and then release it. When the screen appears: \'\'-----\'\' Reset is successful.
Power-off data storage function: The data will be automatically saved after the battery is pulled out, and the storage time will be one month.
Test paper function: The color of the backlight will change with the PH value, just like litmus test paper.

TDS detector
Specification:
Steps for usage:
Before use, please unplug the electrode protective cover;
Press the power button to put the electrode into the solution to be tested;
After the value is stable, press the HOLD key to take out the reading;
After the reading is completed, press the power button, wipe the electrode clean, and put the electrode protective cover in;
Feature:
Lock function: easy to read and record, the instrument will lock the reading;
5 minutes automatic shutdown function, the battery will not run out;
Measuring range:
Conductivity: 0-9990us/cm
TDS:0-9999ppm
Degree Celsius: 0.1-80.0℃
Fahrenheit: 32.0-176.0℉
Accuracy: ±2%
Size: 154x30x14mm
TDS & conductivity switch:
The meter displays the TDS value at the factory. If you want to measure the conductivity of the solution, please lightly touch the SHIFT key, and the meter will switch automatically;
Automatic temperature compensation:
The meter has the function of automatic temperature compensation in the measurement mode;
Temperature switch:
Tap the SHIFT key twice in a row to switch between degrees Celsius and Fahrenheit, and the meter defaults to degrees Celsius;

Note:
Due to the different monitor and light effect, the actual color of the item might be slightly different from the color showed on the pictures. Thank you!
Please allow 1-2cm measuring deviation due to manual measurement.