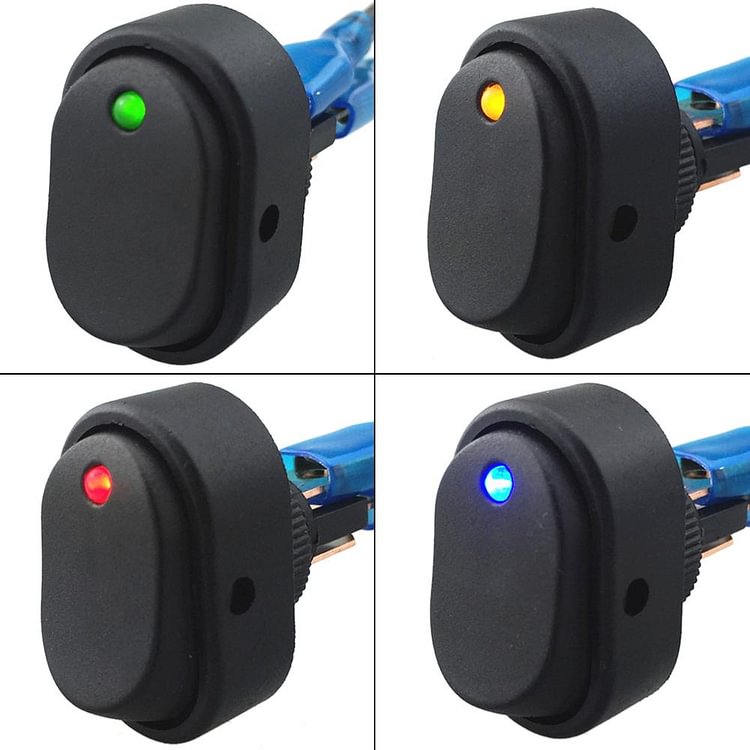 Description:
Rating: 12V/DC. 30A.
3 PINS WITH LED lamp , ON /OFF SPST
THE fluorescent lamp \'s WILL TURN ON WHEN YOU TURN ON THE SWITCH.
Feature:
Easy setup. 31mm x 19mm hole, 12mm diameter cut size for the tighten screw is required and the switch will sit in nicely; don\'t need to cut outs.
The switch comes with a keyhole slot to prevent unwanted rotation.
Blue fluorescent lamp \'s will be lighted up when the switch is turned on.
2 pole design (On/Off) , 3rd poles with LED to be connected to earth.
Earth connect to power(-);Load connect to power(+);the middle connect to the light(+)
Main technical characteristics:
Name: ASW-20D free shipping blue 12V LED illuminated car led switch
Diameter: 12mm diameter
Material: nylon material
Lamp: led lamp
Switch function: on-off
Rated voltage: 12VDC 30A
Contact R: 50m ohm max
Insulation R: 500VDC 100 ohm min
Operating temperature: -25 to 85
Package Content:
1 X Blue LED Switch
1 X Red LED Switch
1 X Green LED Switch
1 X Yellow LED Switch