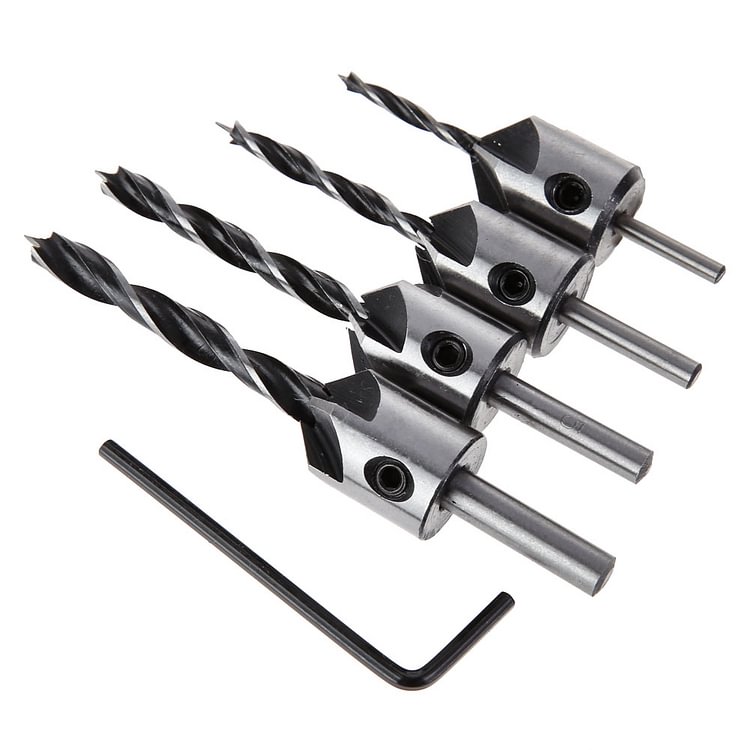 Description:
    100% brand new and high quality
    Four piece set includes bits for drilling pilot holes for screw sizes 3mm, 4mm, 5mm, 6mm.
    Special designed steel counter sleeve countersinks or counter bores pilot hole.
    Adjustable counter sleeve depth with wrench.
    Drill and countersink for wood screws without changing bits.
    Drilling length can be adjusted for various length screws simply by loosening and tightening the setscrew.
    Chamfer is 5 flutes, In the process of using, can discharge the wood more rapid, sink hole disposable drilled smooth, screw cap perfect embedded in the surface of workpiece.
    Specifications:
    Color: As the pictures show
    Material: HSS Drill 4241
    Black chamfer drill body material: steel #45
    Dimension:
    3mm x 60mm(L)
    4mm x 75mm(L)
    5mm x 85mm(L)
    6mm x 93mm(L)
    Dia. of Chamfer: 15.8mm
    Shank: 1/4 hex shank.
4 x Woodworking chamfer

1 x Hex Shank