9cm 7g Sinking Wobblers Fishing Lures Multi Jointed Hard Artificial Bait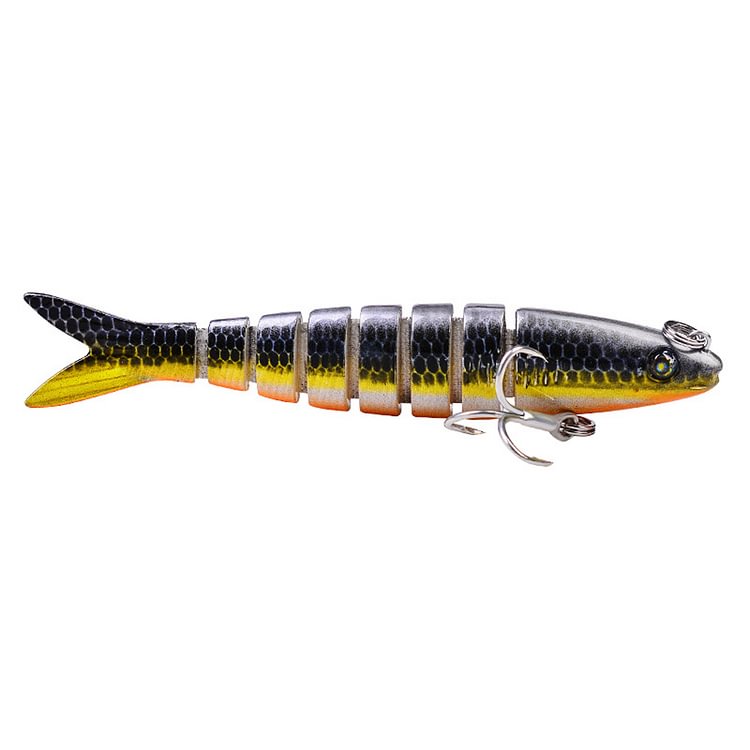 9cm 7g Sinking Wobblers Fishing Lures Multi Jointed Hard Artificial Bait
9cm 7g Sinking Wobblers 8 Segment Fishing Lures Multi Jointed Artificial Swimbait Hard Bait Fishing Tackle
Feature:
1. There is a center of gravity transfer ball in the body, which can move to the tail to improve the throwing distance. The air posture is stable and smooth, and it is not easy to spin, which is conducive to throwing.
2. It can reflect external light from all angles and has the effect of light inducing fish, which is suitable for different water regimes.
3. There are several small steel balls in the body, which will make a sound when dragging, strongly attracting the attention of fish.
4. It is made of ABS plastic material. Firm and strong, and resistant to falling and knocking. The steel ball used inside has been tested by precision instruments to ensure the swimming posture of each bait.
Specification:
Material: Plastic
Product weight: 7g
Product length: 9cm/3.54in
Model: A-D
Operation method:
For the fish with low flexibility or hidden around obstacles, when the operating depth is 30-50cm, the small range operation has strong attraction. There are two kinds of operation methods:
One is pulling the bait: pulling the fishing line hard to make Lure bait float up after diving, using Lure's action from the surface to the bottom, and arousing the water wave to attract the fish's attention. 
The second is the trembling rod: the rod vibrates irregularly and intermittently, driving Luya to swim in the water.
Compared with the baiting method, the baiting method has larger range, stronger force, larger moving distance, faster moving speed, and appropriate strength. Do not give the fish a chance to breathe, so that they immediately bite the bait reflexively, with a strong temptation.
It should be noted that fierce baiting can make Lure swim to the maximum. Even fish hiding in 3-3.5 meters of water and grass or at the root of rocks will be lured to bite.
Note:
Due to the different monitor and light effect, the actual color of the item might be slightly different from the color showed on the pictures. Thank you!
Please allow 1-3cm measuring deviation due to manual measurement.
1 x Multi Jointed Fishing Lure