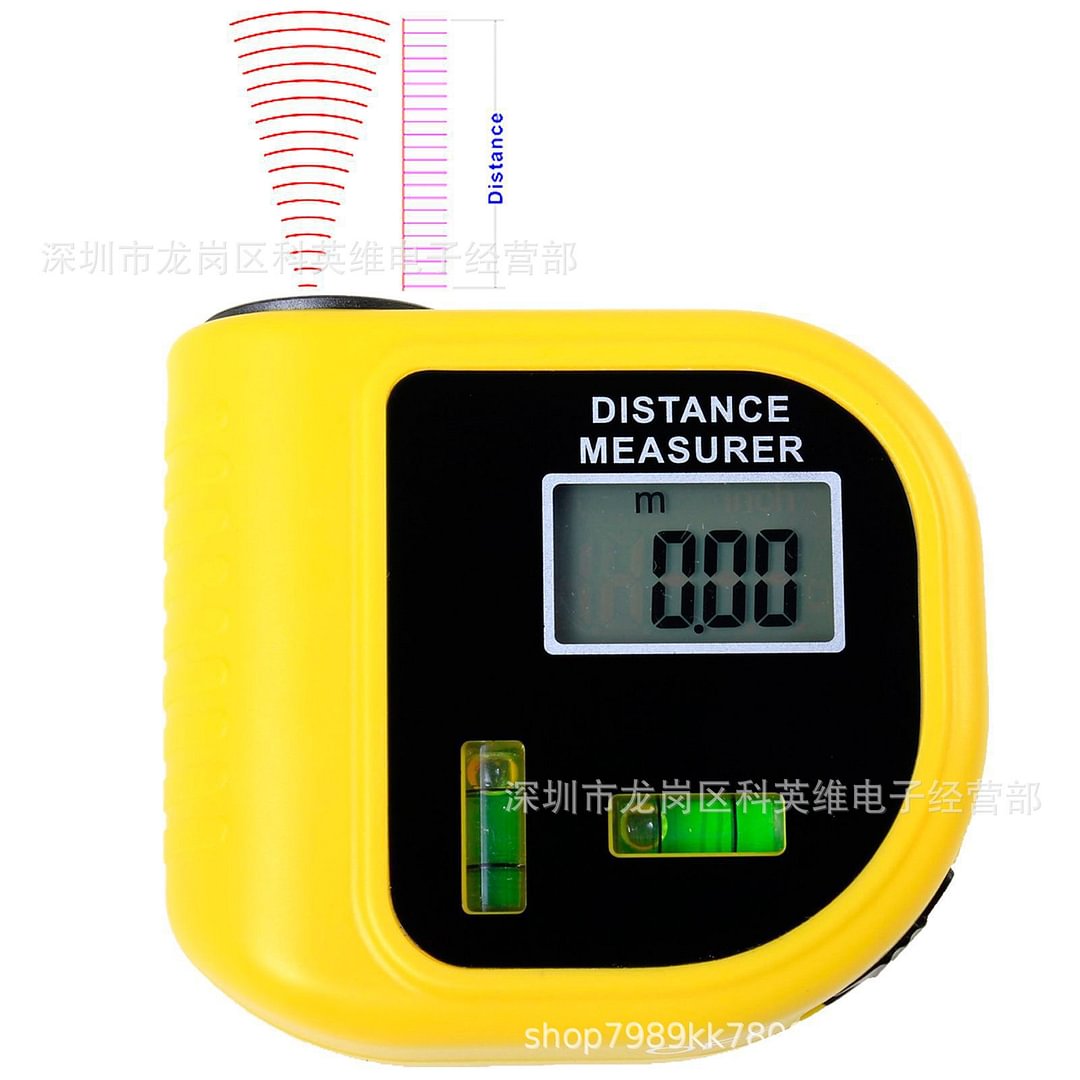 1 / 1
CP3010 60ft Digital Laser Ultrasonic Rangefinder Portable Spirit Level Distance Meter with Bubble Measuring Instrument Tools
Specification:
Power supply: 1 X 12V (23A)
Measurement data unit: Feet or meters
Accuracy: 0.5% 1 bit (2-60 feet)
Working frequency: 40KHz
Working temperature: 32 ℉ to 109.4 ℉ (℃ to 43 ℃)
Measuring range: 2 to 60 feet (0.55 to 18.288 meters)
The above are most product specifications; individual products may vary.

Caveat:
The rangefinder emits visible laser light with a wavelength of 650nm.
Do not look directly at the laser beam, and do not point the laser beam at others\' eyes.
The output of secondary laser products is less than 1 milliwatt.

Install the battery: Your rangefinder requires a 12V (23A) battery (not supplied) for power supply.
Please follow the steps below to install the battery:
1. Slide the battery compartment cover in the direction of the arrow to open it.
2. Correctly insert the battery into the battery compartment according to the positive and negative (+ / -) directions indicated in the compartment.
3. Replace the lid.
4. When the low battery warning icon appears or the meter stops working normally, replace the battery.
Note: If the rangefinder will not be used for one month or more, please remove the battery. The battery may leak chemical substances that damage the internal electronic components.

Adapt the rangefinder to the surrounding environment before use:
Your rangefinder is sensitive to changes in surrounding temperature and humidity.
Before you use it, please wait about 15-30 minutes for it to stabilize to the current room temperature.

Formal operation:
Turn on/off the rangefinder;
Press the \"READ\" key to start the rangefinder.
If no key is pressed within 30 seconds, the rangefinder will automatically shut down.

Take measurements:
1. After powering on, press the \"READ\" key again, and the distance between the rangefinder and the measured point will be displayed on the screen.
2. Place the bottom of the rangefinder flat on the wall, about the middle of the floor to the ceiling.
Make sure that there are no obstructions between the rangefinder and the measured point. And make sure that your head or hands are not in front of the rangefinder.

Precautions:
The measurement result will continue to be displayed for about 30 seconds (or longer if you press another key within these 30 seconds).
If the distance you try to measure is less than 2 feet (0.6 meters) or more than 60 feet (18 meters), an \"ERROR\" prompt will appear on the screen.

Note:
Due to the different monitor and light effect, the actual color of the item might be slightly different from the color showed on the pictures. Thank you!
Please allow 1-3mm measuring deviation due to manual measurement.