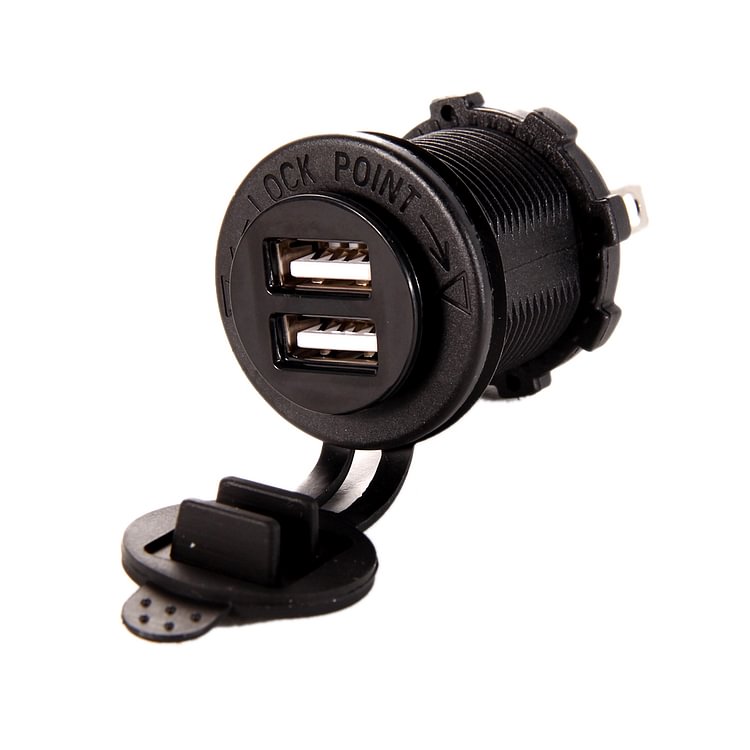 Item Description:   
SKU#:  XA.MM.350-2  Shipping weight:2oz  Net:1.1oz
Integrated high quality socket with USB duel accessory charger and sealing cap.
Charges iPhones, iPads, GPS.
Listing is for one USB charging socket all in one integrated design. Has two ports one charging at 2.1 amp and one charging at 1 amp.  A tight fitting cap protects the USB ports when not in use. All nylon construction and UV resistant.   #CU
Fits in a 1-1/8 hole
Over-current over-voltage, over-load and over-temperature protection.
The intelligent control will prolong the cycle life of the battery.
Environmentally friendly, energy-saving, complying with the safe certification standard.
High working efficiency: over 85%, good charging performance.
Rapid charging your phone safely and without overcharging your battery.
Replaces Blue Sea Systems equivalent
Specification:
1: Input : 12V
2: Output : 5V---2.1A
3: Rapid charging for mobile phone
4: IC chip inside prevents overcharging and short circuit
Power requirements for popular accessories:
Source                    Voltage           Current                  Power
GPS charger              5 volts             0.5 amps             2.5 Watts
iPhone Charger        5 volts             1.0 amps            5 Watts
iPad Charger             5 volts          2.1 amps           12 watts
1 X Motorcycle  charger