Fork Oil Tool Kit Gauge Suspension Level Tuning Syringe Shock Sag Adjuster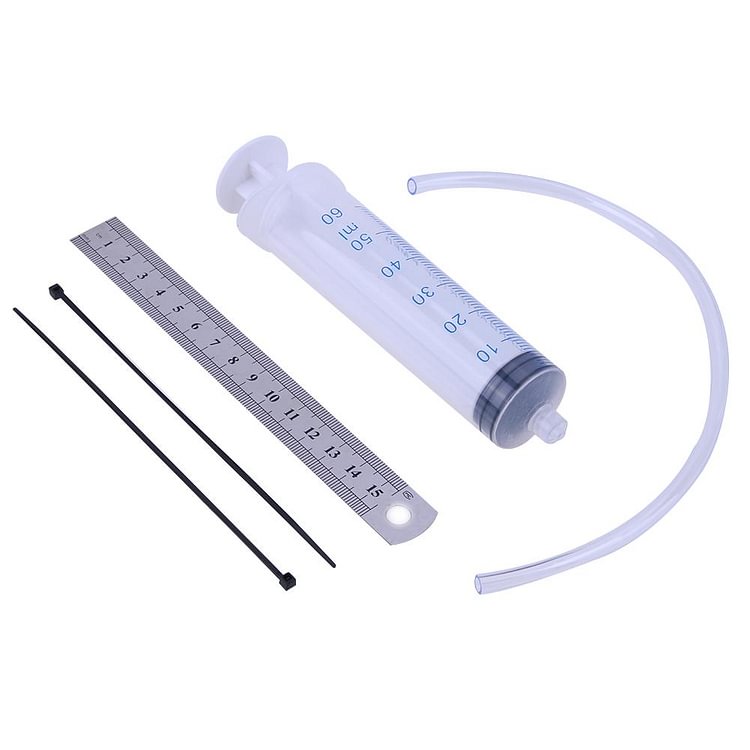 Fork Oil Tool Kit Gauge Suspension Level Tuning Syringe Shock Sag Adjuster
Descriptions:
60ml/2oz syringe with adjustable tie for repeat readings
All measurements in metric and standard
Stainless steel 6"/150mm ruler for setting oil height
Hoses that can be set to oil level or cut down
Add or remove oils from engines,transmissions,turbos,differentials,and so on

Setting Fork Oil Levels:
1. Install the house with the tie adjuster to the syringe
2. Get your fork oil height from your manual in mm or inches
3. Using the ruler (metric on one side inches on the other ) measure from the end of the soft hose to the zip tie. Slide the zip tie up or down the line to get your measurement. With the zip tie set on the fork tube you can remove oil. When it sucks air your level is set.
4. You can also use the other blue line which you can cut to any length for a faster setup for one bike or measurement.
5. On the metric side of the ruler 9 equals 90mm which is the same as 9cm.

Adding and Removing Oil:
1. You can adjust the tie on the syringe for repeat readings. With the small blue hose you can add oil through the air bleeder holes on some forks.
2. Don't limit this to just forks, uses this to add or remove oils from engines, transmissions, differentials, and so on. If you overfill just remove the extra with your syringe .
3. ml or cc are the same, 10cc equals 10ml.

Storage:
Put everything back in the zip lock bag to keep stuff clean for the next use. You can even hang it up using the hole in the bag.

Specifications:
Product name: Fork Oil Tool Kit Gauge Suspension Level Tuning Syringe Shock Sag Adjuster Seal
Packing size: 220 X 150 X 40mm/8.66 X 5.91 X 1.57"
Gross weight: about 60g
1 X 150mm Ruler
1 X 60ml Syringe
4 X Zip Tires
2 X Soft Hoses