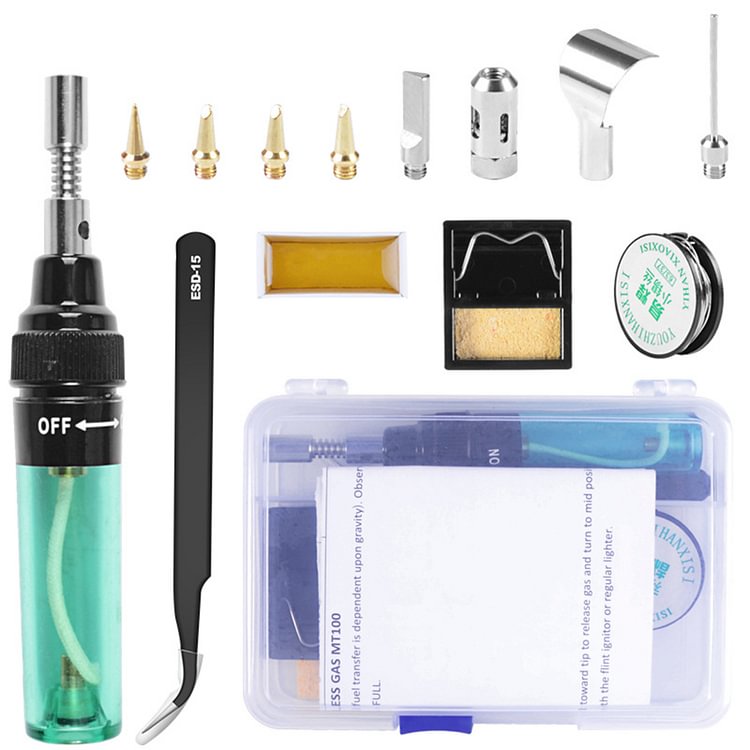 MT-100 14 in 1 Cordless Butane Soldering Iron Multi Purpose Kit Adjustable Flame for Automotive Electronics Home DIY Computer
Specification:
Material: plastic
Temperature: flame temperature 1300℃, soldering iron temperature 450℃
Fuel: pure butane (not included)
Use time: 35-45 minutes
Size: 128*19*19mm

Instruction:
Gas refilling
1. Use high-quality gas to fill, and confirm that the switch is in the OFF position, and then fill
2. Introduce the gas tank into the air hole and press down to inflate.
3. About 10 seconds, the gas filling can be completed, wait a few minutes for the gas to stabilize, and then use it.
4. If there is a hissing sound in the tail after the gas is poured in, use the pen tip to slightly press into the air port to eliminate it.

Ignition
1. Push the switch to the ON position and hear a \"hissing\" sound.
2. Push the flameout ring forward.
3. Use an igniter or lighter to ignite near the joint.
4. After lighting the fire, burn for 3 seconds, then return the flame extinguishing ring to its original place. When the fire is extinguished, the soldering iron tip will continue to heat.
5. Increase in the direction of + and decrease in the direction of -.
6. The temperature of this product is as high as 1300℃ (the soldering iron temperature is 450℃). Please pay attention to safety when using it. Turn off the switch after use.
7. When using a gas soldering iron, please pay special attention to the operation until the flame is completely eliminated and the object inside the soldering iron turns red.
8. The length of the flame is about 1.2-1.5 cm.

Note:
There may be slight size deviations due to manual measurement, different measuring methods and tools.
The picture may not reflect the actual color of the item because of different photographing light, angle and display monitor.