Outdoor Garden Misting Cooling System Fitting 4/7mm Hose 10pcs Nozzles Kit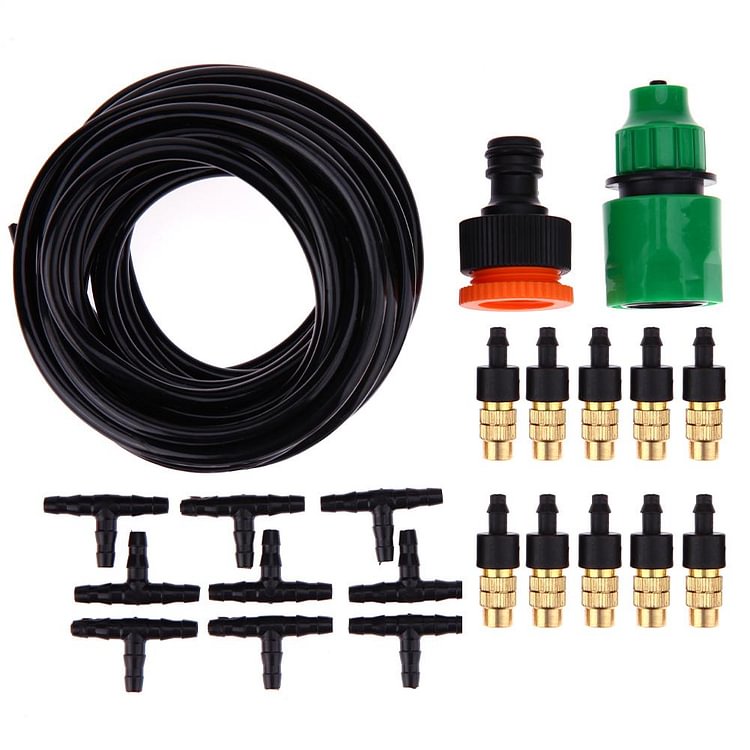 Outdoor Garden Misting Cooling System Fitting 4/7mm Hose 10pcs Nozzles Kit
Features:
Misting spray system nozzle is made for cooper and stainless steel propeller.
A centrifuge vortex is created by the nozzle, and micro misting spray is made.
Great for factory humidifying, cooling, disinfection, dusk removal, landscaping, artificial salt mist, etc.
Exquisite workmanship, only 0.3mm hole diameter, cost 10 times less than traditional air humidifying.
Requires no air assistance, easy to set, sufficient spray, low consumption.
Forging processed stainless steel propeller owns 1.5 times longer service life than other product.
Suitable for you to connect to a normal tap water.
Installation:
1.
We recommend you to install on a 2.5-3m height.
2.
Connect the adapter to the tap.
3.
Wash the system with running water for 1min.
4.
Connect the nozzle to tee hose connector, except the last nozzle.
5.
Wash for 2 min to ensure system is fully washed.
6.
Shut the water, connect the last nozzle to the connector, and apply the terminal.
7.
Fix the hose with attached belts and mounts.
8.
Let water go through the system and enjoy.
9.
Please close the nozzles when system is not in use for a long time, and keep it clean and dry.
Specification:
Length: approx. 5 m/16.4 ft
Material: Plastic
Weight: approx. 195 g
Package: OPP Bag
1 X 5m 4/7 Hose
1 X Inner Thread Tap Connector
1 X 1/4 Barbed Tee
1 X 4/7 Nipple
9 X 4/7 Tee
10 X Copper Nozzles