Smart Thermometer Hygrometer Alarm Clock Digital Temperature Humidity Meter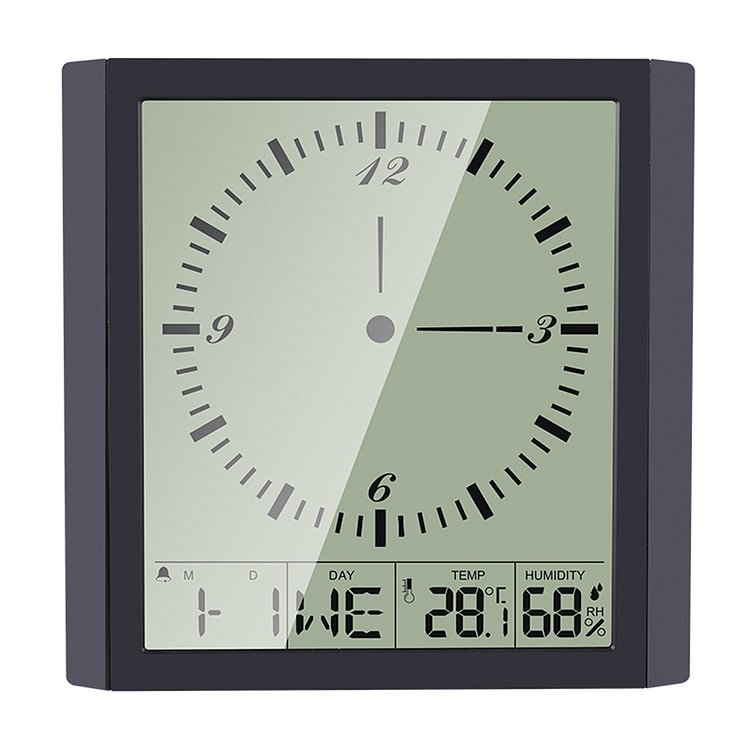 Smart Thermometer Hygrometer Alarm Clock Digital Temperature Humidity Meter
Smart Electronic Digital Display Temperature Humidity Measuring Meter Household Wall-mounted Desktop Alarm Clock Thermometer Hygrometer
Feature:
5 function keys: ALARM, SET, DOWN, UP, SNOOZE;
Time pointer display;
Calendar display: January 1, 2000-December 31, 2099;
Time system: 12HR/24HR display selection;
Week display;
Room temperature;
Indoor humidity;
Time alarm function;
Snooze function;
Temperature display format selection (C/F);
Power supply: 3 X 1.5V AAA (not included).

Specification:
Material: ABS
Size: 20x2.5x20cm/7.87x0.98x7.87in
Colour: Black
Language design: There are 7 countries in total, the order of setting: EN - GE - FR - SP - IT - DU - DA

Temperature and humidity test instructions:
Indoor temperature detection range: 0°C to +50°C (+32°F to +122°F).
The indoor detection temperature is lower than 0 °C (32 °F), displayed as LL.L℃ & ℉, higher than + 50 (122 °F), displayed as HH.H℃ & ℉.
Indoor humidity display range: 20%RH-95%RH.
The indoor temperature and humidity detection cycle is 60 seconds. When the alarm is sounding, the temperature and humidity detection is not performed, and the INDOOR temperature and humidity value is not updated.
If the indoor humidity is lower than 20%RH, it will be displayed at 20%RH, and if it is higher than 95%RH, it will also be displayed at 95%RH.
Time setting:
In the standard mode, press the SET key to switch the display of the date column content of the time item, and switch the display to time and alarm time.
In the standard mode, press and hold the SET button for 2 seconds to enter the time and general item setting mode. After entering, the setting items are displayed and flashing.
In the time and general item setting mode, press the SET key to confirm the setting item result and switch to the next setting item. The setting item sequence is as follows: default time-time-hour-time minute-time year-month/day or day/ Month time format conversion-time month-time days-week language-exit.
In the time setting mode, press the UP or DOWN key to adjust the options and parameters of the set item, press once to change the item option forward or backward, if it is a set parameter, its value will increase or decrease by 1, press UP or Press the DOWN key for more than 2 seconds, the item options will increase or decrease rapidly.
No button operation within 20 seconds will abandon the item being set and exit the setting state.

Note:
When the display is unclear, fuzzy, flashing crazily or low battery display appears, it is recommended to replace the battery.
The product can be used as a desktop clock or wall-mounted, and customers can choose freely.
This product has no backlight.
Due to the different monitor and light effect, the actual color of the item might be slightly different from the color showed on the pictures. Thank you!
Please allow 1-3cm measuring deviation due to manual measurement.