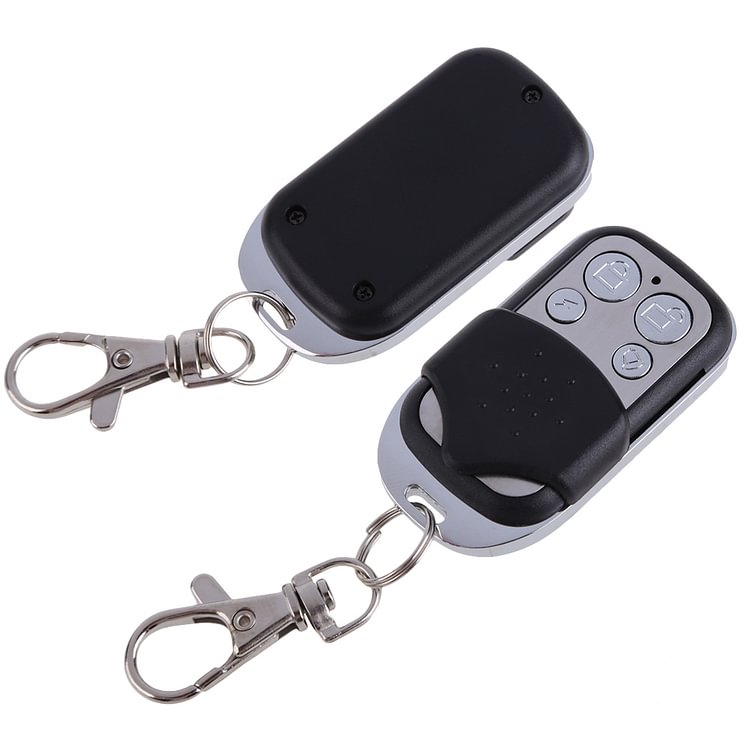 100% brand new and high quality
This item is a 4-Channel RF Wireless Remote Control Duplicator for Garage Doors, Cars, Gates, Alarm Systems and any fixed code system on 433MHz frequency
This is a fixed frequency remote (433MHz) for copying nearly all common fixed and learning code remote controls, which can clone up to 4 remote signals from 4 different remotes using just 1 remote key fob (one button per key fob).
Access Control Systems
Car central locking systems 
Electronic gates 
Garage doors 
Electrical appliances - Home automated products i.e. lights
Car/Motorbike alarms
Easy to use, the 4 channel remote control key fob lets you easily copy most remote control fobs. 
Press to press remote control user manual
The press to press RC(remote control) can be used without copy master,it sends and receives signal & does copy by itself,mostly used in area of auto,electric-door,etc.It is fit for kinds of fixed code copy.And study IC style as belows:AX5326-3、PT2262、PT2260、EV1527、FP527、PT2242、HT600、HT680、HT6207、HT6010、HT6012、HT6014、AX5326-4、SMC918、PT2240、HT6013、HT6013、HT12D and so on;
Clear code: Press lock & unlock at the same time, and the LED light will be off after 
slowly flashing three times. Then loosen the unlock button only, and continuously 
press it 3 to 5 times(the action shall be completed in 5 seconds). When the light 
keeps flashing, it means the code has been cleared. 
 

Copy:take the original RC by left hand,and our product by right,closer them as possible(back to back will be better).Press 2 lock button at the same time,after 3s,the light will flash 3times and keep flashing then.It showed the lock-button-copy action successful.Other buttons do the same process.
Revert:When you clear the RC code carelessly,press lock & mute button at the same time.After 3s,LED light flash 3times then keep flashing,it showed the code recovered.
Adjust frequency:If it is fixed frequency,press any button to have a test.If it is adjust frequency(on 315MHz,can be test directly),find your frequency by non inductive regulator on the chip board,range from 280--450MHz.Pls kindly note,for metal RC,pls lower 3MHz around to remove the influence caused by metal.For example,433MHz to 431MHz on the chip,when you fixed on the metal RC shell,the frequency will increase litt
1 * Remote Control Key